Skip to Content
Signs You Need Muffler Repair
There are some car components you can put off getting repaired, but the muffler isn't one of them. Wait too long to get your muffler serviced, and it could cost you a lot more when the problem finally gets too bad to ignore. If you recognize any of these signs of a bad muffler, visit an auto repair shop near you in White Oak, MD for professional muffler repair.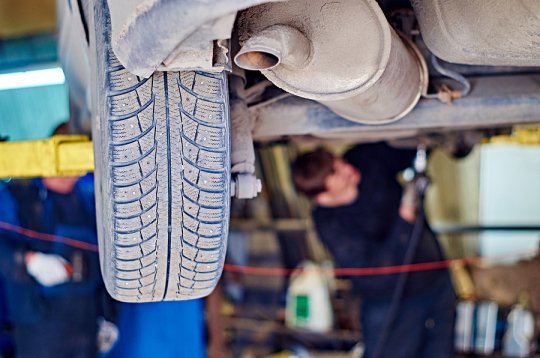 Loud Noises
The most obvious sign of a failing muffler is a drastic (or gradual) change in the volume coming from the exhaust while driving. When it's working properly, the muffler should operate quietly in the background while the vehicle is running. If you notice your car is louder, don't just turn up the radio to drown out the rumbling or roaring sound—instead, have your car checked out by a muffler repair mechanic as soon as possible.
Vibrations or Loss of Power
As muffler problems develop and get worse, you might notice other signs besides (or in addition to) the deep, rumbling sound mentioned previously. If you experience new vibrations in the steering wheel or feet pedals when operating your car or notice a significant change in your car's acceleration and top speed, have your muffler checked out by a professional mechanic.
Lower Fuel Economy
Problems with the muffler and exhaust system can also lower your vehicle's gas mileage, so pay attention to how often you fill up at the pump or track your fuel economy and visit an auto repair shop when you notice your car's fuel efficiency starts to dip. Even if it's not the exhaust system, something is affecting your vehicle's gas mileage, and your mechanic can find out what it is.
If you suspect a problem with your muffler or exhaust system, bring your car to Murray's Auto Clinics. Both of our auto repair and maintenance shops in White Oak, MD are equipped to meet all of your vehicle service needs, including muffler and exhaust repair. Call us at 301-585-7557 to learn more about our services or to talk with a mechanic about your vehicle.